Beware of New Loan Shark SMS Tactics
It seems that with the capping of interest rates charged by Singapore licensed money lenders to 4% per month (effective 1 Oct), the illegal loan sharks (unlicensed money lenders) are feeling the heat and starting to step up their efforts (or rather deceptive SMS tactics) to con unsuspecting victims into borrowing money from them.
Common SMS Tactics
Basically, the loan shark SMS tactics have only one malicious intent – to get you to respond and ultimately take up an illegal loan with them unknowingly. And once you fail to repay the installments, the harrassment will begin.
Here are their 5 most common types of SMS (or WhatsApp/Phone) tactics:
1) Fake Loan Deposited
The sender creates an impression that you are liable for the loan as the money has already been deposited to an account number.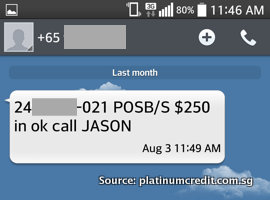 2) Sorry for the Late Reply
The sender assumes the position that your mobile number has already been used to contact them for a loan.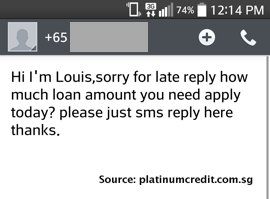 3) Impersonate as Legal Money Lender
The sender masquerades as a licensed money lender in Singapore to instill trust and authenticity in their loan service.
4) Debt Consolidation and Assistance
The sender pretends to be a helpline to assist you in debt consolidation and stopping harrassment from debtors.
5) Reply to a Mobile Number
The sender promises attractive terms such as guaranteed approval and request you to Call, SMS or WhatsApp to a mobile number.
Identify Loan Shark Ads Easily
As the Singapore Government is cautious about encouraging demand through advertising, licensed money lenders in Singapore are only allowed to advertise through these 3 avenues:
(i) consumer/business directories (either online or printed directories such as Yellow Pages);
(ii) websites belonging to the legal money lender; and
(iii) ads placed on the exterior of or within the money lender's offices.
So if you receive an ad from one of the following channels; referred to a website with a mobile number or promise to process loans over the phone, it is likely from the loan sharks (unlicensed money lender). Because legal money lenders are not permitted to do these.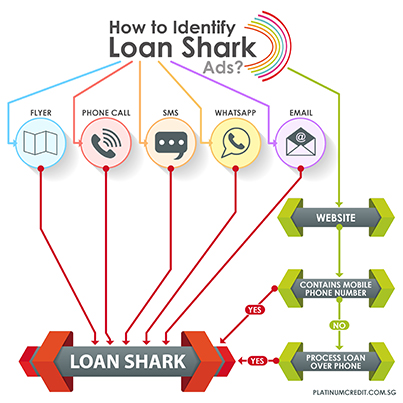 Why Are Loan Sharks Panicking?
With the interest rate cap, borrowing from a legal money lender has become very affordable. To view an example, visit our online personal loan calculator.