Bank Overdraft VS Moneylender: Which Is Better For Business Loan?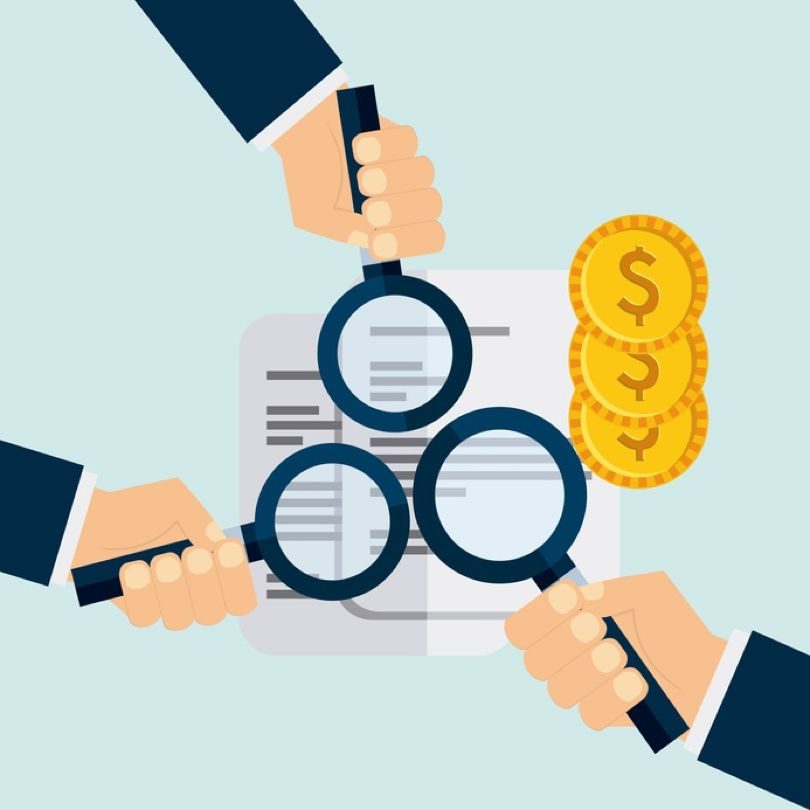 You finally get the call. The client likes your catalogue and rates and wants to place an order. They are having a contract drawn up with your company. You are pleased but also a bit worried. You're handling a large order and your cash box isn't exactly overflowing.
At your accountant's suggestion, you call up your bank manager and ask for a short-term business loan to begin production. The manager is sympathetic and friendly but turns down your request. Your business is relatively new and you cannot offer required collateral against loan amount.
After persistent requests, he asks you to apply for overdraft credit against your current account. You aren't sure about this facility as you've never used it.
How does Bank Overdraft work for business loans?
Bank overdraft facility is a form of credit extended to customers (read business owners) with a current account. The bank sanctions a certain amount as the upper limit. You can withdraw cash or make cheque payment for business related activities up to this limit. Most banks will require security for overdraft credit, which could be anything from fixed deposits to investments.
Other features include:
Interest rate is usually 1-2% more than prime lending rates of banks in Singapore (which is currently around 5.35 %).
Interest is calculated on a daily basis on the amount you draw over your current account balance.
No time limit on repayment of overdrawn funds, but bank can withdraw this facility at any time, and ask you to pay back the extra money.

This seems like a reasonable and easy way to raise funds for your immediate financial needs or other fund requirements including renovating or expanding your business, paying for newer and necessary equipment, temporary cash crunch due to lower-than-usual sales, or liquid funds to sell a seasonal product or service.
In the above scenario, the small business owner is lucky to get unsecured credit. Now comes the tough part.
Trial of paper work
Banks have stringent rules in place for overdraft application and documentation. You have to submit a lot of documents including financial reports of your business. Banks can take anything from 3-4 weeks to go through your application, verify documents, check credit rating, existing loans and repayment history, analyse your business income and profits before processing your request.
Every small to medium business will need funds at some point.
Despite intense scrutiny and time consuming process, there is no guarantee you'll receive final approval. After waiting anxiously for extension of credit, you may return empty handed. To add insult to injury, you are forced to forgo that life-changing contract due to delay in raising funds.
There are situations where you cannot wait for funds as your business and profits can be affected. You may face sudden cash shortage or require money for unexpected repairs to equipment or replace raw materials.
Sometimes you don't have necessary documents to get a bank loan. As a start-up or unemployed person running a new business, you may not be eligible for regular loans or government grants.
Is there a sure-proof funding alternative?
Obtain business loan from Licensed Money Lenders
Many Singaporeans turn to licensed money lenders as they are viable options with relaxed rules and procedure. You are assured of quick approval and less paper work.
Fill an online form, produce basic documents, and wait for a couple of days. The lender will approve your unsecured business loan and contact you for instant cash release. If you have a company, shop or commercial venture that is more than two years old, you can borrow any amount of money. This is subject to money lender's risk appetite and your ability to repay.
While money lenders won't be picky about lower credit score for smaller amounts, they may check credit worthiness before lending huge sums for business.
Features of this facility:
High interest rate charged ranging from 7.5-15% due to unsecured nature of loan.
Interest rate is based on amount borrowed and is usually a fixed monthly rate.
Flexible repayment options and interest rate negotiations are possible.

You may incur additional charges for late payment, changes in loan terms, early repayment, dishonoured cheques, failed GIRO deductions, or legal charges for loan recovery.
A comparison table (an example)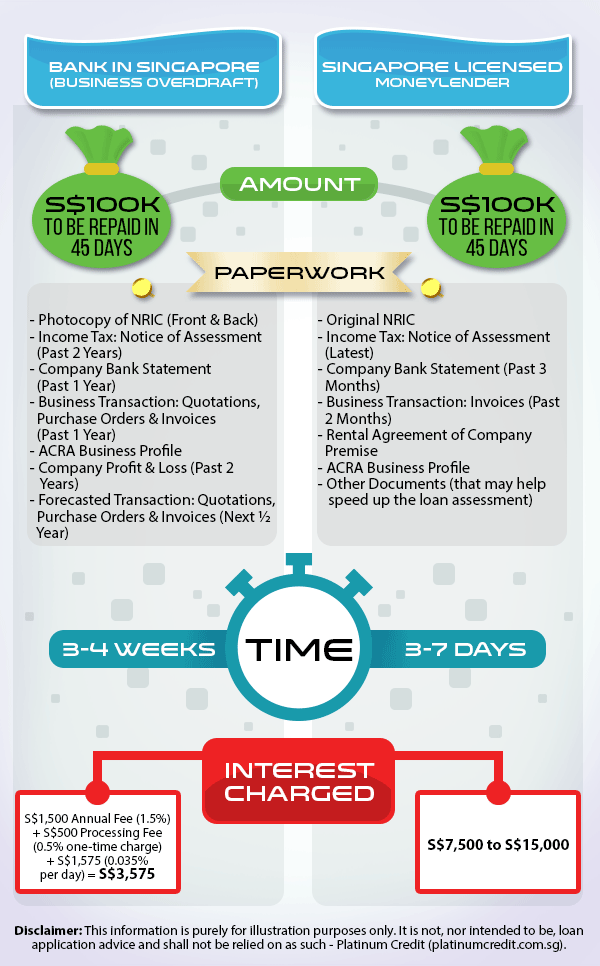 The choice is clear
Overdraft facilities come with their share of extra charges like annual fees, hefty interest and penalty for exceeding limit, and overdraft fees. If you constantly exceed your limit, your overdraft may be converted into a term loan at higher interest rates.
Choose business overdraft when you have all documents and are willing to wait for a month or more for funds.
Opt for money lending services when you need fast cash with speedy approval, fewer documents and less credit scrutiny.
A word of advice: Choose a licensed money lending company like Platinum Credit that has a good reputation among fund seekers.